Deepen your knowledge. Expand your business. Elevate your offerings.
Welcome to the Maharani Academy. Join me, Corinna Maharani, your teacher and guide, as we embark on this unique journey toward professional certification in Pancha Karma. This is one of the most comprehensive Pancha Karma trainings and unlike any other. It combines twenty-five years of practice in Ayurveda and Pancha Karma with fifteen years of teaching experience into one unique, intensive learning experience. Offered with the highest respect for the ancient traditions of Pancha Karma and the SVA lineage, in both purity of knowledge and authenticity, this training is designed to give students in-depth online and hands-on professional experience, expertise, and confidence in performing Ayurvedic Sacred Bodywork™, Marma Therapy and Pancha Karma, the Ayurvedic Detox Cleanse.
Ayurvedic Bodywork and Pancha Karma cleansing therapies are among the fastest growing healthcare services offered, and are featured at spas, wellness centers, and clinics around the world. Through this training you can learn a new vocation or enhance and deepen your connection with your present clients as your treatments will become more effective, transformative, and enchanting. When you incorporate Ayurvedic Bodywork and Pancha Karma into your practice you will expand your menu offering, support greater client retention and ultimately create a new revenue stream.
I invite you to immerse yourself into this life-changing training in this ancient art. I look forward to sharing the technical and intuitive elements that make this timeless medicine such a sacred and powerful addition to your healing practice.
The training includes:
168 hours of professional training in Pancha Karma.
Related Online classes:
May 13th to July 29th, 2020
(12 Weeks of online classes, live and recorded each Wednesday 6-7:30pm)
Plus:
2 Five-Day Hands On Workshop Retreats to experience hands-on learning, held in Santa Barbara.
May 13th-17th and July 22nd-26th, 2020
(You must attend these classes in person)
The training launches with 12 online classes, but in case the student cannot participate in the live, each class is recorded for later viewing. Tests and related assignments must be completed within a week's time. The 12 Week program includes a training DVD, professional manual, access to an online student forum, and theoretical instruction in all major Ayurvedic Sacred Bodywork™ and Pancha Karma techniques, related tests, and assignments. To learn more about the 12 Weeks online classes, including schedule and topics, click below.
The 2 Five-Day Workshop Retreats
The two five-day Workshop Retreats consist of a complete collection of hands-on training components for the training and need to be attended in person. They are offered in two segments and in a restorative atmosphere. There will be time to practice and receive these wonderful therapies, making the process of learning a rich healing experience for yourself as well. The Maharani Academy is located at SBCAST, the Santa Barbara Center for Art, Science, and Technology. We are proud to be a part of one of the most progressive centers for cutting edge vision, healing, and creativity.
9:30am-Noon Morning classes at SBCAST
Noon-1:00pm Lunch (Ayurvedic meal)
1:00-3:30pm Practicum at clinic or SBCAST
4pm Closing and Meditation
Modalities you will learn in the Workshop Retreats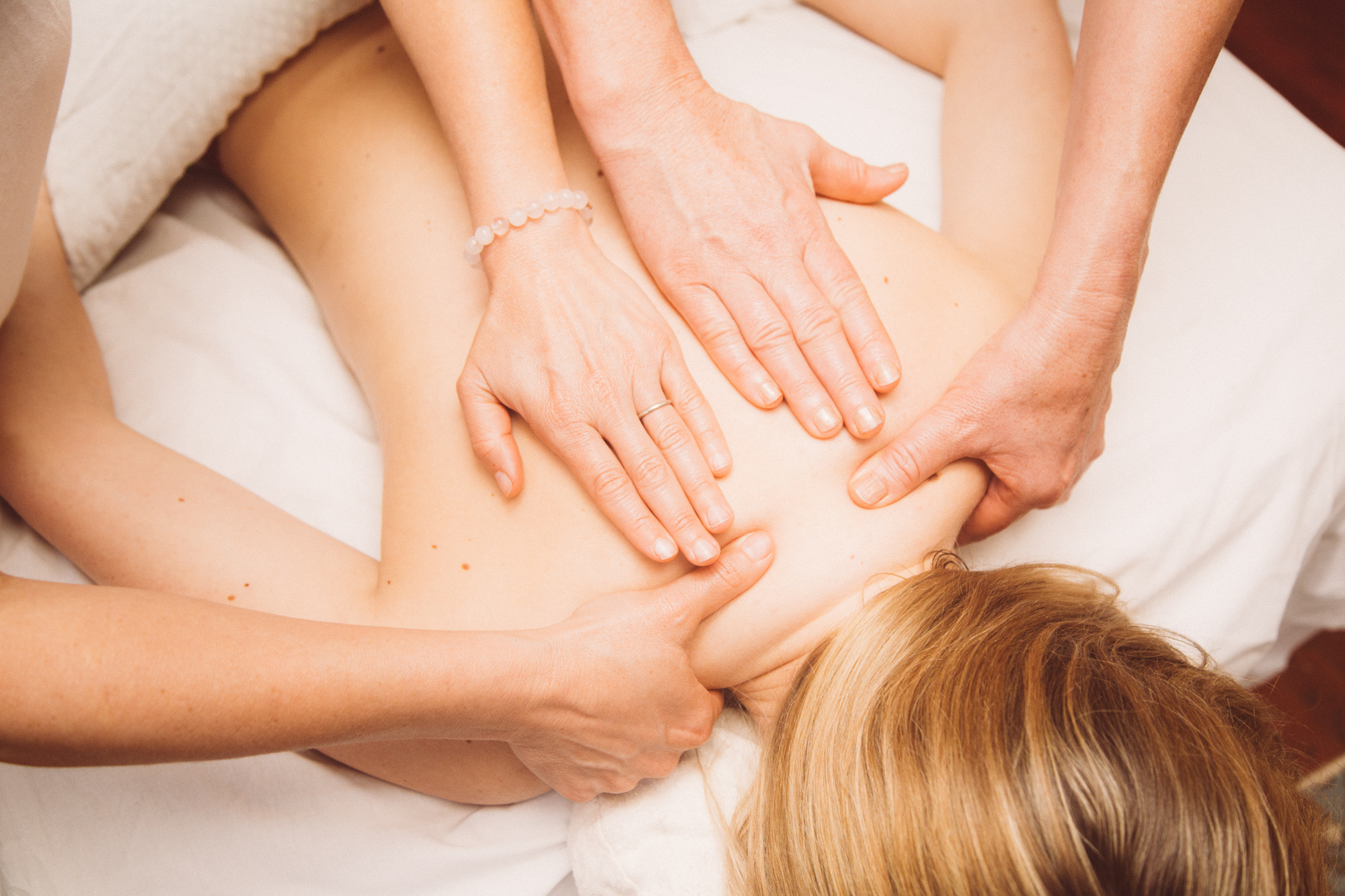 is the classic Ayurvedic oil massage that uses the skillful application of medicinal oils with specific nurturing strokes. It activates the energetic centers (Marma points), breaks up impurities, and stimulates arterial and lymphatic circulation. Learn how to perform this treatment alone and in synchrony with another technician.
is an herbal medicinal steam therapy that can be administered locally to specific body parts or for the entire physiology. (Except for the head, which is always kept cool). It allows oils to penetrate deeply into the tissues and also removes toxins.
is the pouring of medicinal liquids (oil, buttermilk, ghee) across the forehead. It specifically nurtures the region of the third eye, connected to the master gland of the body, the pituitary and it also creates a profound sense of peace and calm.
is a study of the fundamental principles of Marma Therapy and how to use sound, touch, aroma, and intention to direct the flow of prana for healing. Learn how to apply Marma therapy for clinical practice.
is a brisk massage that uses herbal powders and pastes to stimulate the release of toxins and supports the removal of excess fatty tissue.
is a cooling therapy using herbal rice bolus bags warmed in a specialized milk decoction and vigorously massaged into the skin to reduce inflammation and rejuvenate the body.
is the classic sinus and nasal treatment designed to open up the channels of the upper body to allow more pranic energy to enter. It includes an enlivening Indian head massage, localized steam, and the use of an assortment of nasal concoctions.
involves the use of a variety of methods and techniques such as the bathing of the eyes in ghee, eye drops, and purification through herbal smoke to alleviate eye conditions.
uses a specific ear massage and the application of herbal decoctions to relieve earaches and other ear related problems.
Students will also learn the clinical application of Marma Therapy, the complete set of Ayurvedic Sense Therapies, Basti, Dry/Wet Udvartana, Lepas, Silk-Glove Massage, Indian Head Massage, Foot Treatment, Ayurvedic Facial, and how to administer herbal compresses, make herbal decoctions etc.
To see the detailed class schedule for the two Five-Day Workshop Retreats, click the button below.
Certification and Credits
The Pancha Karma Vocational / Technical Training consists of a total of 168 professional training hours, that takes as little as four months to complete. This includes 12 online, virtual classes and 2 Five-Day Workshop Retreats for hands-on learning. Students will receive professional certification, verifying their highest level of expertise upon completion.
Certified Pancha Karma Technician (CPT): Granted to all who complete the Pancha Karma Vocational/Technical training. CPT's may administer Pancha Karma with the guidance of a Certified Ayurvedic Practitioner (CAP), Ayurvedic doctor, or Vaidya. Technicians are able to administer a wide variety of healing modalities at a spa, clinic, or private practice. In most states, in order to legally offer massage therapy, students must have a massage license, but most other therapies of services such as Shirodhara, Marma etc. can be performed without a massage license.
Ayurveda Bodyworker (AVB): In additional to receiving a CPT, the licensed massage therapist will also be granted an AVB. This certification allows students to all individual bodywork techniques.
Pancha Karma Therapist (PKT): In addition to receiving a CPT, Ayurvedic Practitioners and Vaidyas and Ayurvedic Doctors will be granted a PKT. Students with a PKT can also prescribe Pancha Karma treatments as an adjunct to their other treatment plans.
This training does not allow students to diagnose or treat disease, as that is always reserved to a medically trained professional. To learn more about the prerequisites for Pancha Karma Vocationa/Technical training click below.
We are an organizational/educational member, approved by N.A.M.A. to provide students with PACE credits. Through taking this training, all students can earn 18 NAMA PACE credits and Ayurvedic practitioners or doctors may earn as much as 38 PACE credits, after completion of the program.(Note: Students need to be Student members of the organization in order to receive PACE credits).
Became a pioneer in the field.
"Learning to give Ayurvedic treatments has opened so many doors for me. I went from having a small healing practice in my home to opening up the first Ayurvedic spa in my city. Words cannot explain how grateful I am to have found the Maharani Academy." Jonah Bloom, Senior Panchakarma Technician
Gained invaluable tools.
"During my Pancha Karma training I have learned invaluable tools and techniques through which I can now bring the wonderful healing gifts of Ayurveda to friends, family and the public. Learning of the love that is poured into each individual's session has opened my heart and my desire to continue my work as an Ayurvedic Practitioner. I could not have asked for a richer experience." Brenda Scharr, Pancha Karma technician.
Beyond massage training.
"My practice changed dramatically after I took Corinna's certification PK training. I now offer something unique. It's way beyond massage, so profound, powerfully healing and also a truly yummy and transformational experience." Ilene Seegalove, Artist and massage therapist
Sense of peace.
"When I receive Corinna's Pancha Karma treatments I feel a deep sense of peace, relaxation and spiritual connection. Truly an auspicious, powerful gift. Her depth of knowledge is so profound and I love learning from her." Doris P., CA
Join the dedicated students of the Maharani Academy. Reserve your space today!